Explorer VW folding Camp Firepit & BBQ
Explorer VW folding Camp Firepit & BBQ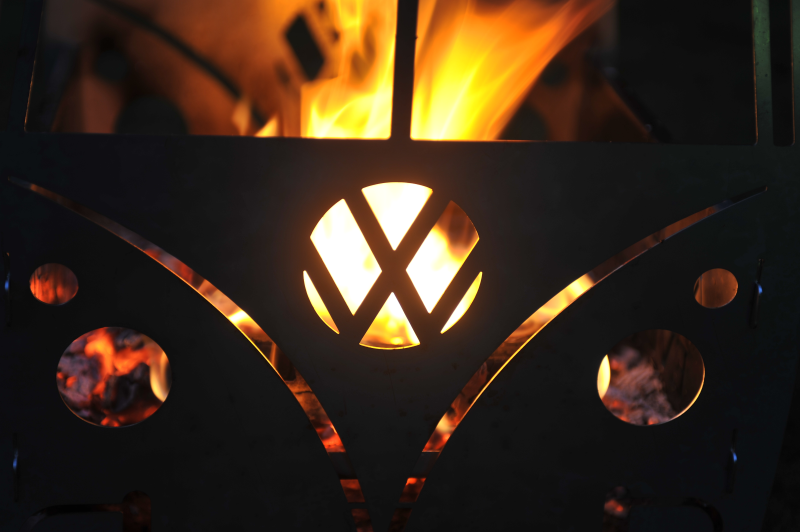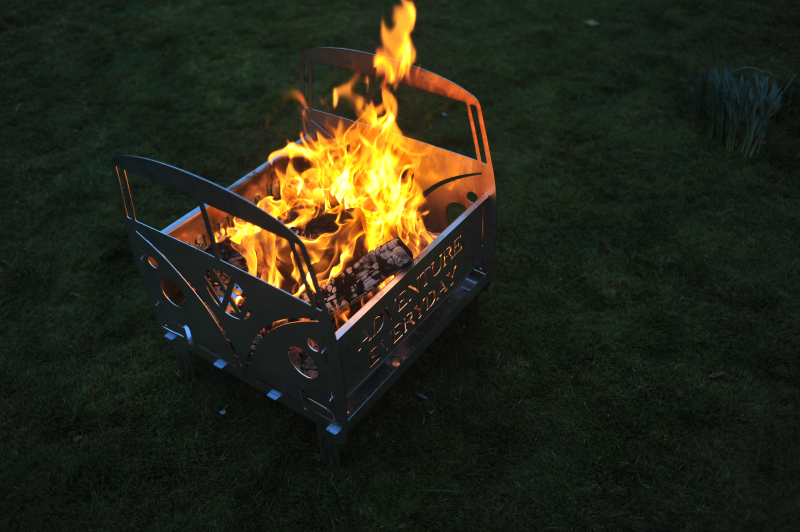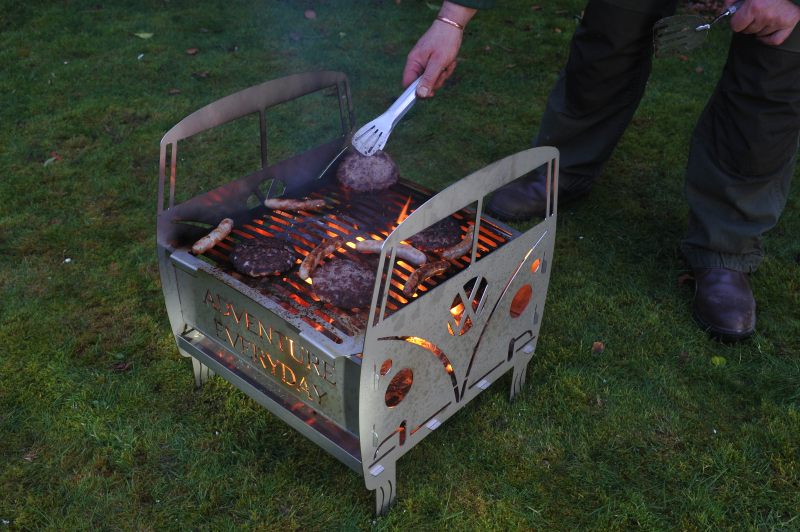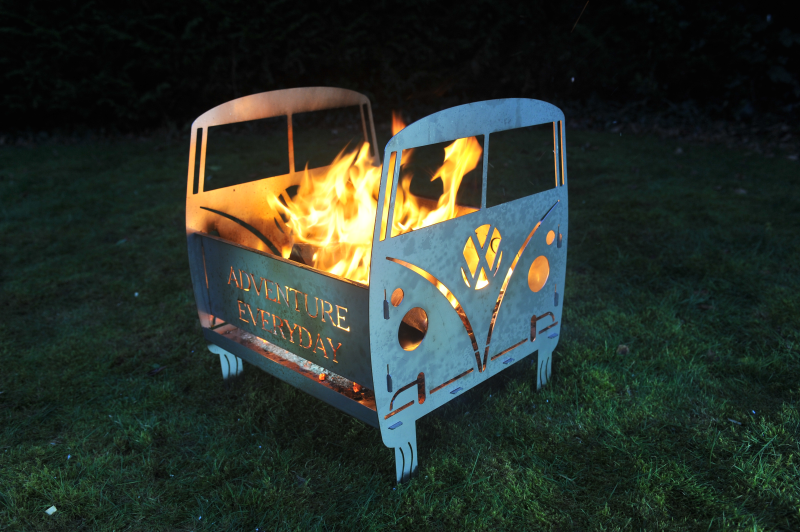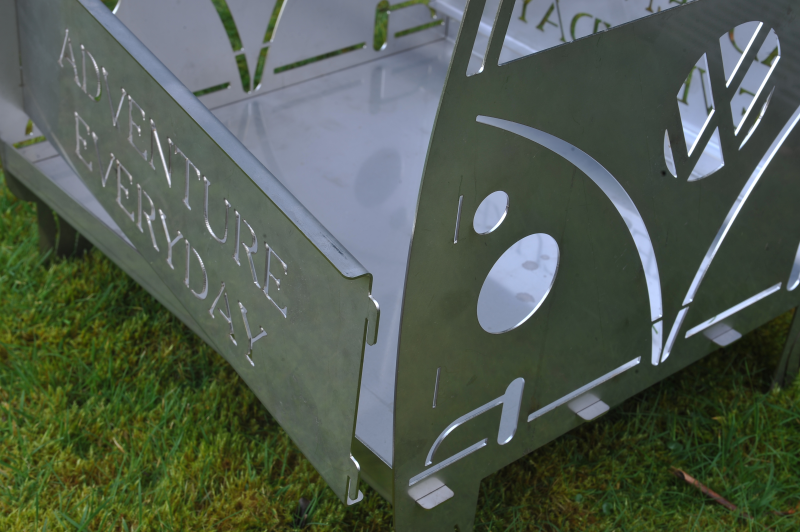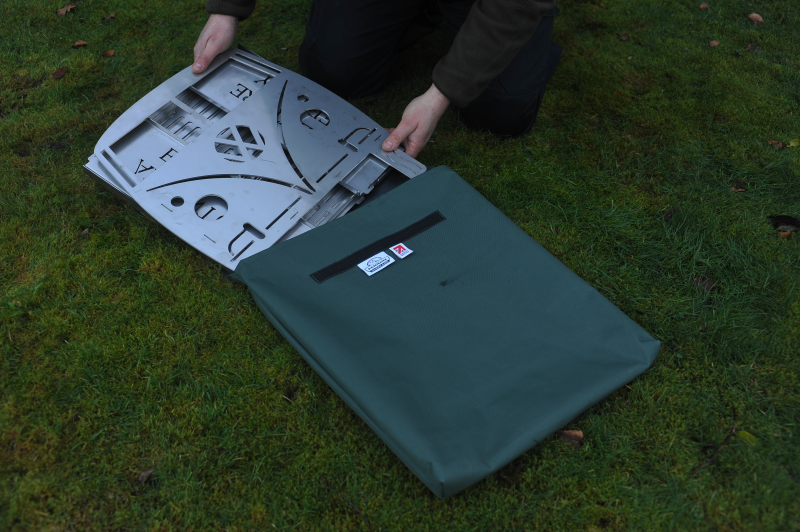 Explorer VW Folding Camp Firepit & BBQ.
Want to enjoy a real campfire and cook in the great outdoors, with minimal impact on the ground and with minimum smoke? The Explorer VW Camp Firepit & BBQ is designed to do this and to work equally well at home or on expedition, Simplicity of use and quality manufacture is at the heart of everything we design. It has been designed to be; 
Set up very quickly and simple to assemble. 
Be very sturdy when assembled,
Burn with minimum smoke 
Utilise the airflow to minimise heat impact on the ground,
Cook at two different heights 
Fit Bedourie Camp Ovens and other large Dutch Ovens.
Have the Iconic styling of the VW Camper Van.
Pack away quickly, into it's own sturdy heavy duty wallet. 
BBQ is manufactured from high quality, 304 stainless steel. It can be used as a BBQ, camp fire or as a firepit. Can be left outside in all weather and then washed in a stream or in the dish washer, if you're not feeling that adventurous. The Explorer VW Camp Firepit & BBQ was not only designed to work very well, but also been designed to look good. The Explorer VW Camp Firepit is designed by us in Yorkshire using Solidworks 3d CAD and precision laser cut just over the Pennines in Lancashire. The Heavy Duty Wallet is manufactured in Yorkshire and carries the "Made in Britain" logo. The Explorer VW Camp Firepit is designed to be large enough to cook for a family of 4-6 and works exceptionally well with a Bedourie Camp Oven. It can take logs up to 30cm long. It can be used with firewood sustainably sourced locally, dry logs, loose charcoal and charcoal Briquettes. The assembled dimensions are; 42cm long, 39cm wide and 32cm high The packed away dimensions are, 43cm long, 42cm wide and 5cm high. The Explorer VW Camp Fire and BBQ weighs in at 6.5kgs. We also make the Explorer LR Camp Fire & BBQ in the shape of the Land Rover Series 1. Both versions of the Explorer Camp Firepit & BBQ use the same internal parts. We aim to stock all spare parts for Explorer Camp Firepit and BBQ 's. To provide you with ongoing support, so you can enjoy years of cooking and relaxing around your Explorer Camp Fire and BBQ. Please do contact us if you need any further information on the Explorer Camp Fire & BBQ or any of our other products.