Explorer Awning Tent for Land Rover Defender and Series
Explorer Awning Tent for Land Rover Defender and Series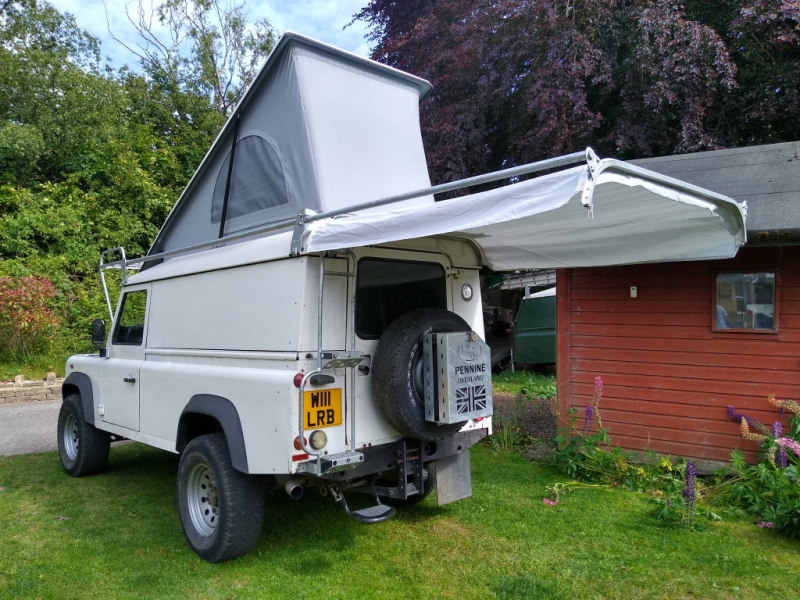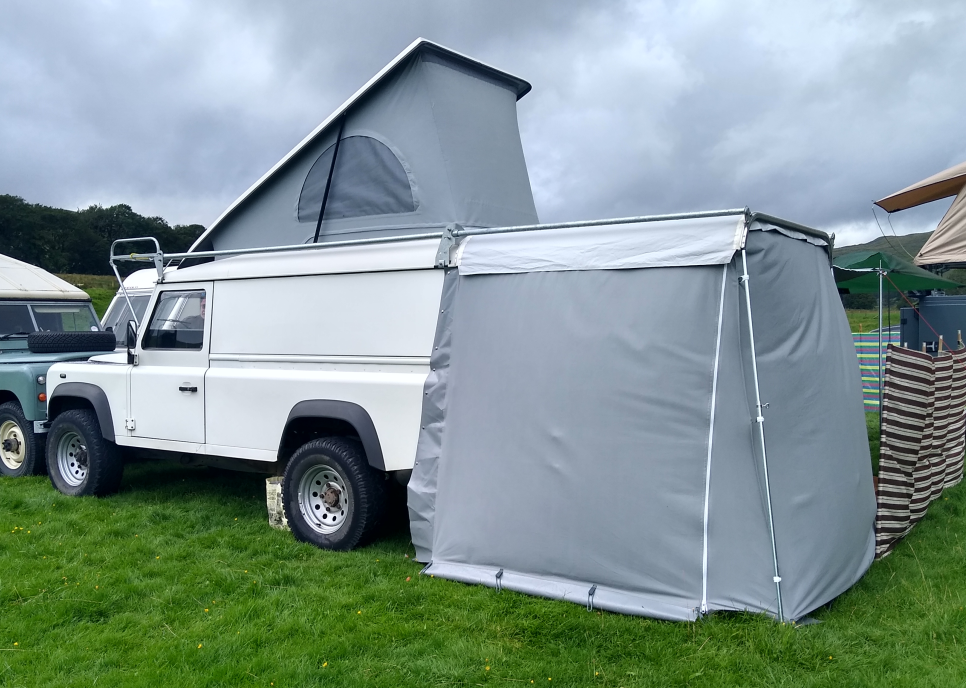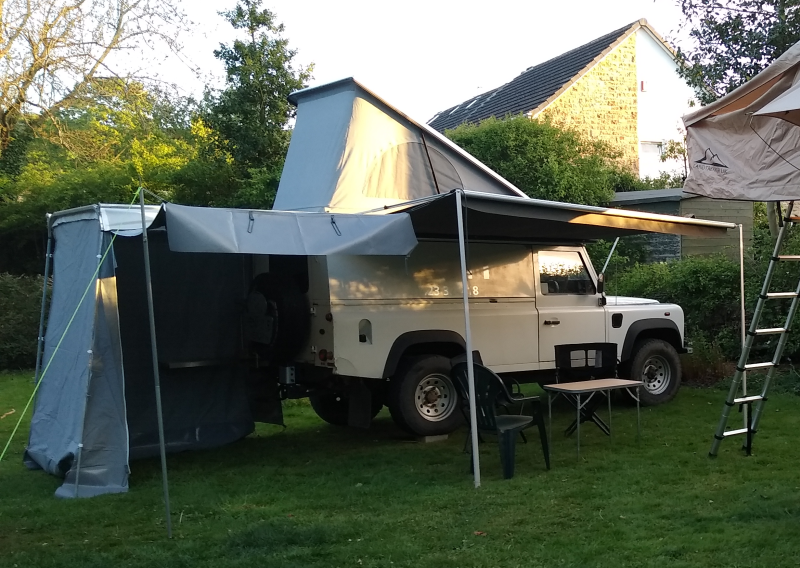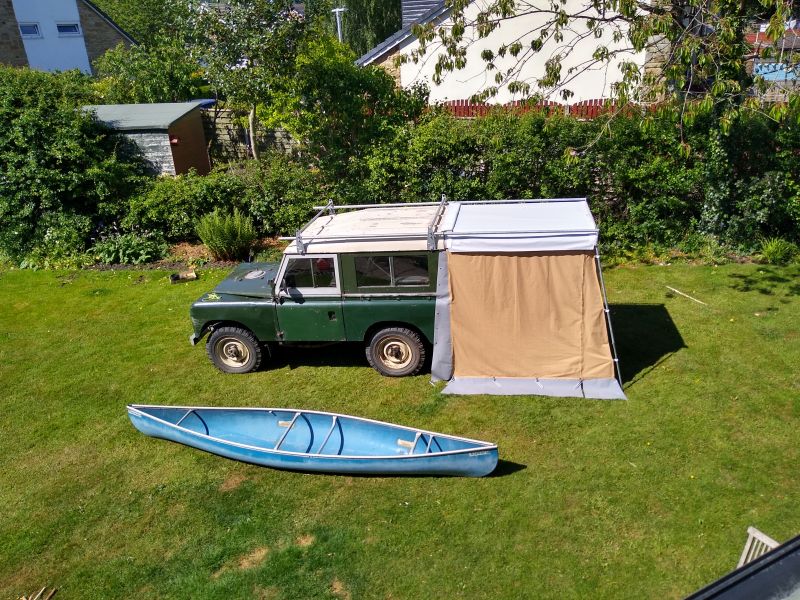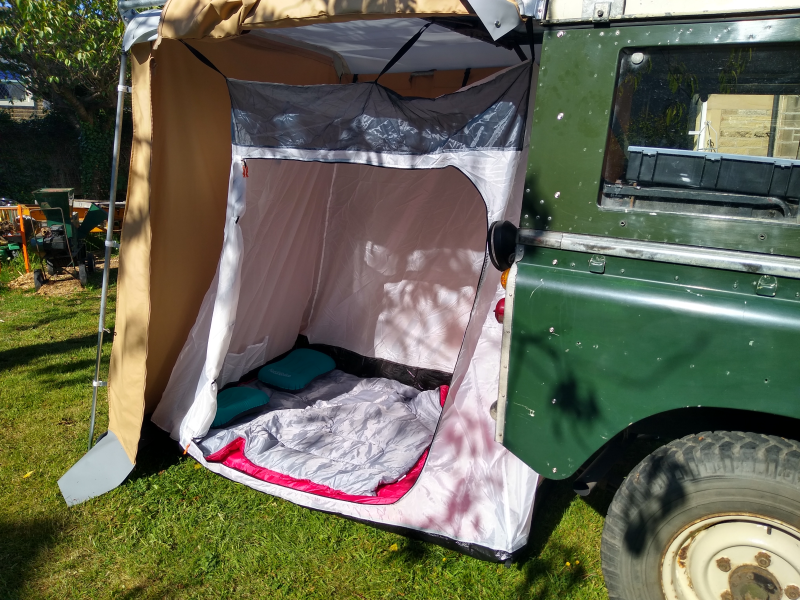 Explorer Awning Tent The Explorer Awning Tent provides instant protection for the rear door of your Defender or Series Land Rover. It can be used in virtually all weather conditions, and on all surfaces, as it is self supporting. The sides can be adding in a couple of minutes and in most condition do not require pegging. Multiple pegging points are provided for storm conditions and the extra wide mud wall will secure the tent when covered in sand for touring desert regions. The side canvases have been specifically designed to be lifted to act as additional cover, especially when used in conjunction with one of our Explorer Side Awnings. 
The Explorer Awning Tent is made in Yorkshire from the best materials available. We use 'Tencate' 'All Season' canvas for the roof as this is 100% waterproof, allows good light transmission and is more resistant to dirt. The side walls are made from 'Tencate' 'Cotton Canvas' which is waterproof and breathable. 'Tencate' 'Cotton Canvas' has been the preferred canvas of high quality British and European Tent and awning manufacturers for decades. Drivelodge use 'Tencate' 'Cotton Canvas' for their pop top roofs and the awning we have used all over Europe and North Africa for the last 10 years is made from 'Tencate' 'All Season' and 'Tencate' 'Cotton Canvas'. 
The Explorer Awning Tent roof frame is made in house and from lightweight, but strong steel tubing. All parts are hot dipped galvanised and should last a lifetime. The frame is designed to fit all of our L. R. Bits roof racks and roof bars. It simply pulls in and out. It is secured using the 4 bungies at the back. We do fit clamping knobs, but they are there mainly to reduce any annoying noises above your head whilst driving. The Explorer Awning Tent is supplied with two Rafter Tension Poles and two Roof Support Poles, all of which are manufactured in the UK. The Rafter Poles tension the roof sheet and also support the side canvas's. This makes the side canvas very simple to fit and provides a very strong anchor point, allowing the side canvas to used as an awning in most conditions. The roof support poles give addition support to the roof, but also tension the canvas side to remove the requirement for pegging. This allows the Explorer Awning tent to be used effectively on solid surfaces, such as car parks and Aire's de service.
 Additional Awning Support poles can be supplied to allow the side to be lifted to provide addition cover. When used with a 3m side awning, this can give over 4m of cover and allow you to move in and out of the vehicle in the dry or out of the sun.
 We guarantee all of our work. The galvanised Explorer roof frame caries a lifetime guaranteed against manufacturing faults. Poles and Canvas carries a 1 year guarantee, but as we manufacture these items, we will happily carry out repairs throughout the lifetime of the Explorer Awning Tent.